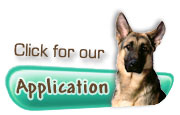 All Serendipity dogs are vaccinated, de-wormed, spayed or neutered, microchipped, heartworm tested (treated if needed), and started on heartworm and flea/tick preventative. If you find a dog you might be interested in adopting, please visit our Adoption Information page. See more updates on our Facebook page.
You can view our adoptable dogs on this page (see below) or visit Petfinder.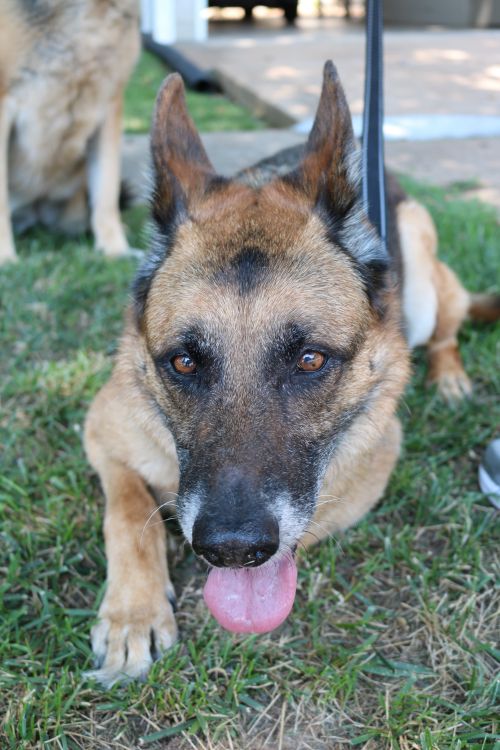 German Shepherd Dog
Spayed/Neutered
Gunny is 12 years old and came into rescue with his lifelong companion, 8-year-old Misha. Please check Misha's profile for more information on her! Gunny is an old gentleman with progressive health issues. He has earned a soft spot to land and to live out the rest of his days in comfort, peace, and quiet. He lived his entire life with one owner until July 2018. Gunny will remain a Serendipity dog in hospice foster for the rest of his life. He is happy and well in the loving care of his foster human. If you'd like to donate towards Gunny's hospice healthcare, please visit our website here: http://serendipitygsd.org/help/contribute
Senior, Male, Large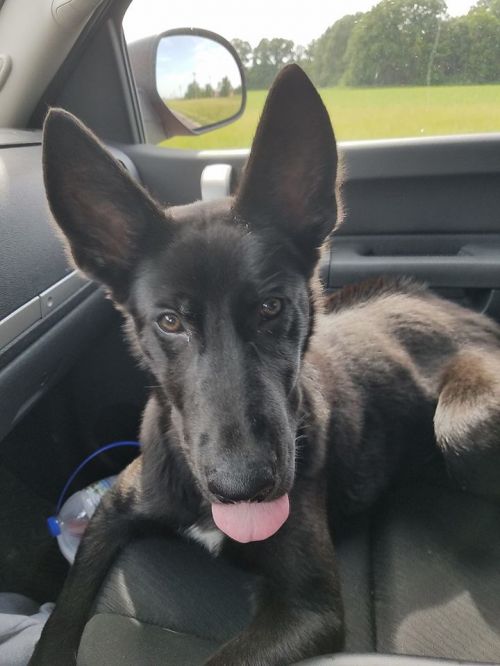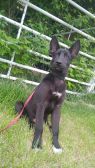 German Shepherd Dog
Spayed/Neutered
Up-to-date with routine shots
This handsome young boy is Zeke. Zeke is mostly black with some white "pieces of flair" on his chest and paws. ****** PRIOR BACKGROUND INFO****** Zeke came into rescue at about 5 months of age after getting bounced around multiple homes. He had also experienced seizure activity of unknown origin. He arrived in rescue on 6/5/18 and we immediately embarked on getting Zeke a full veterinary workup. Zeke's veterinary workup confirmed that an injury to his head while he was still a young puppy is the likely source of his seizures. Zeke was placed on anti-seizure medication and responded very well! But as Zeke is still a growing boy, his dose and type of medication continue to be adjusted over time as he gets bigger. We definitely "chased the dose" with Zeke a bit during a growth spurt! But since adding an additional medication to his daily routine, he has been seizure-FREE since October 2, 2018. *********UPDATE, NOVEMBER 2018*********** Zeke is now 10 months old and weighing in at a very healthy 70 pounds! He gets his new set of medication twice per day, every 12 hours, and continues to thrive, seizure-free, on his current dose. Zeke has completed full obedience training, including sit, down, place, heel, and recall. His future family will do well to continue to hold him accountable to his training, manners, and commands. (As would all owners of young dogs!) Zeke is also fully crate trained and house-trained. Note: Zeke's medication does increase urination, so having a set schedule that includes crate time, regulates his water intake, and ensures timely potty breaks is important to maintaining his good bathroom habits. His foster family has totally cracked the schedule code for Zeke and will be happy to share! Zeke loves playing tug-of-war and loves playtime with his foster fur-sister, though he can definitely play HARD! Reinforcing manners and calling for "time out!" will be key to keeping any doggie buddy from getting overwhelmed by all that puppy-Zeke energy! Zeke is a happy, rambunctious guy, and a fast learner. He is very strong-willed, so his future family will want to set the ground rules of the house right away, including structure, boundaries, and schedules. Young, zippy Zeke will need a strong leader, but he's also a total love-bug with his humans. His foster humans report that he's a great cuddler and they can't get enough of stroking his silky black fur--"the softest coat ever"--including that cute/crazy mohawk along his spine. Zeke will be on medication for the rest of his life, so his forever humans will need to consider that in the total cost of caring for him over his lifetime in addition to regular veterinary care. SGSDR may be able to help St. Louis-area adopters source discounted rates with local pharmacies we trust and who help us care for our dogs while in our rescue program, so don't hesitate to ask. If you need a bright light like Zeke in your life, please apply to adopt! He'd absolutely love to meet you.
Young, Male, Large
---
We've been around since 2004. Visit our About Us page for more information about our history.