All Serendipity dogs are vaccinated, de-wormed, spayed or neutered, microchipped, heartworm tested (treated if needed), and started on heartworm and flea/tick preventative. If you find a dog you might be interested in adopting, please visit our How to Adopt page. See more updates on our Facebook page.
You can view our adoptable dogs on this page (see below) or visit Petfinder. (link opens in a new browser window)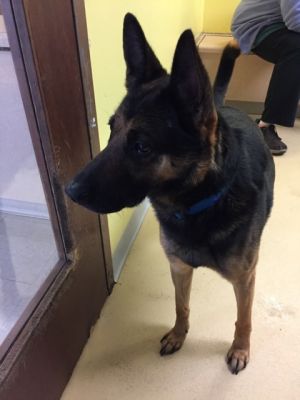 German Shepherd Dog, Belgian Shepherd / Malinois
Up-to-date with routine shots
Roscoe is a 5-year-old male German Shepherd Dog. He is on the smaller side, only 50 pounds! Many of us who've spent time with Roscoe suspect he may well have some Belgian Malinois mixed in, but in appearance, he just looks like a smaller GSD! Roscoe is up to date on all his vaccinations and is heartworm negative. He is microchipped as well. Roscoe is in foster with two larger female GSD mixes in Illinois. He LOVES other dogs his size and larger and would do best in a home with a well-matched doggie buddy for company. Unfortunately, we believe small furries like cats or very tiny dogs are not in Roscoe's future family home. He has displayed some intense prey drive for the smaller creatures! Roscoe is also fully obedience trained, and his foster home continues to "proof" him on his commands: Sit, down, come (recall), heel, and place. Give Roscoe a "stuffy" toy, put him in "place" and he can entertain himself for a very long time! We really want to place Roscoe in a home that will continue his training and challenge his super-bright mind and super-energetic body. But ... Roscoe DOES have an off-switch! His favorite thing ever is to hang out on the couch with his foster mom and foster fur-sister while watching movies. Roscoe is definitely a people person, and wants most to just be with those he loves and who love him back. Roscoe is not yet neutered, but will be before he is placed for adoption. If you're interested in adopting this feisty, pocket-sized boy, please visit our website and fill out an application!
Adult, Male, Medium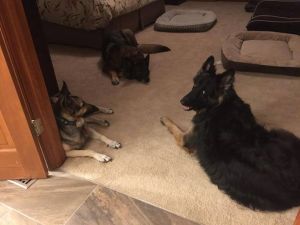 German Shepherd Dog
Spayed/Neutered
Up-to-date with routine shots
Candy is a 5-year-old coated female GSD who finds herself in rescue due to a tragic death in her human family. Candy is a loving girl who enjoys people and attention. With proper introductions, Candy does quite well with dogs her size and enjoys playing with her two GSD foster brothers. Cats or small scurrying pets are a big NO for Candy--they are just too tempting for her, and not as playmates. Candy is fostered in the St. Louis metro area. She does well in a home that sets boundaries and "house rules." Candy received obedience training from our friends at Kennelwood and is brushing up on her commands with the loving help of her experienced fosters. **Update January 2018: Candy is recovering well from her ACL surgery and is pending adoption! Medical Hold Note: Candy was limping visibly on intake and has since been diagnosed with an ACL injury. She will undergo surgery in December and recuperate at home with her foster family. Once healed, Candy will be ready to go to her new forever home. If you think that's you, please apply to adopt Candy! ***** Adoption Fee: $350 ($400 for 9 months and younger) ***** NOTE to those viewing this profile on Petfinder.com: Visit our website for more information about our policies. Please ONLY sponsor or donate through our website at www.serendipitygsd.org ***** View updates on Facebook at www.facebook.com/pages/SGSDR/488585967866140
Adult, Female, Large
---
We've been around for over 10 years. Visit our About Us page for more information about our history.