All Serendipity dogs are vaccinated, de-wormed, spayed or neutered, microchipped, heartworm tested (treated if needed), and started on heartworm and flea/tick preventative. If you find a dog you might be interested in adopting, please visit our How to Adopt page. See more updates on our Facebook page.
You can view our adoptable dogs on this page (see below) or visit Petfinder. (link opens in a new browser window)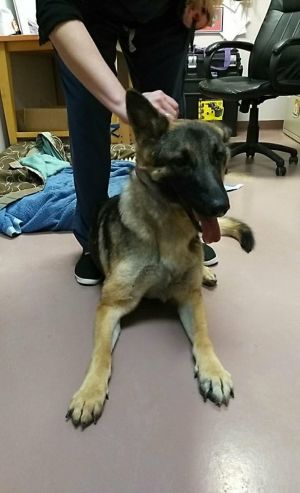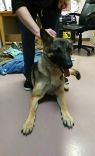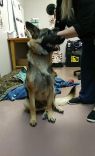 German Shepherd Dog
Spayed/Neutered
Spayed/Neutered
Up-to-date with routine shots
This young lady had a rough start in life, bouncing from Craigs List (yipes) to multiple homes, and then getting hit by a car! As it turns out, that last part was her salvation, because a wonderful woman who manages an area veterinary hospital took her in to get her repaired, rehabbed, and eventually onto the good life in a forever home. Nora has now completed rehab, and will always have a bit of a limp, but she is young, energetic, happy, and SMART. She is about 1.5 years old, and very typical for her age and her breed. She will need an experienced, active dog home and is not considered a "starter GSD." Nora's energy levels are HIGH and she does need frequent exercise to burn off some of that energy. She is well socialized with people and enjoys time with her humans. She knows several obedience commands, including sit, down, and shake. Her recall needs some work! Nora's future family will need to continue her training, and give this feisty young lady an early introduction to house rules, boundaries, and daily structure to her life. Nora **may** do well in a home with a larger male dog of suitable temperament, but this is unknown. We do know that she is not a candidate for homes with very small dogs, cats, or other small pets. Her prey drive is quite high, and she will chase (fast) with intent. Nora has shown resource guarding with her food when her foster mom's other dogs come near. Her future family will need to ensure she eats separately from other animals, or work with a reputable trainer to address this. Nora has shown no resource guarding behaviors to her humans, either with food or with toys. As is common with young working/herding breed dogs, Nora can get mouthy and wound up when excited, but she is easily corrected by a no-nonsense human. Nora tends to forget her size and can be a little clumsy on slick floors because of her injury. Because of this, she could easily knock down small children and would do best in a home with adults and older children who are less easy to knock over! Nora has an amazing personality considering all she has been through. She loves to snuggle on the couch, either in your lap or completely on top of you! Nora is spayed, up to date on her vaccines, and microchipped. If you think Nora is exactly the kind of dog your home is ready for, please apply to adopt!
Adult, Female, Medium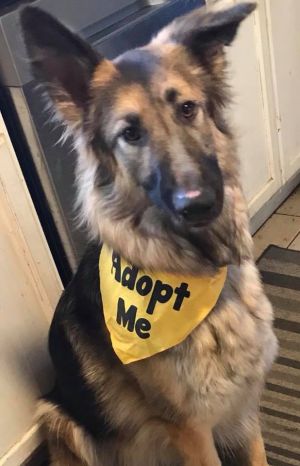 German Shepherd Dog
Spayed/Neutered
Up-to-date with routine shots
Anya (formerly Ana) is a 3-year-old coated (fluffy) German Shepherd Dog. Previously adopted through SGSDR, Anya was returned to rescue by her family, citing high prey drive and neighborhood restrictions on installing a fence to prevent interactions with small animals in the neighborhood. Anya did well in her temporary foster home with her foster family's large dogs, but showed too much interest in the cat! She will do best with dogs her size. Anya lived with young children and enjoyed their company. She is currently enjoying a board-and-train with a talented local trainer, learning impulse control and polishing up her manners. Anya is also learning off-leash recall and obedience and looks forward to sharing her new skills with a forever family! Anya will do best in a home with a family who will keep up her training and requires her to remain a good doggie citizen. With her training, she has learned to ignore small animals when led with authority, but we recommend a home with no small furries for safety and peace of mind. If you are interested in adopting pretty fluffy Anya, please apply to adopt!
Adult, Female, Large
---
We've been around for over 10 years. Visit our About Us page for more information about our history.