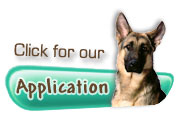 All Serendipity dogs are vaccinated, de-wormed, spayed or neutered, microchipped, heartworm tested (treated if needed), and started on heartworm and flea/tick preventative. If you find a dog you might be interested in adopting, please visit our Adoption Information page. See more updates on our Facebook page.
Radar is a 1.5 year old working-line German Shepherd. He is a compact strong dog who weighs about 80 pounds….
Serendipity German Shepherd Dog Rescue is being asked to help GSD's in need every day. There are often several great…
Sky is a 10 year old male German Shepherd who was returned to rescue after about 3 years in a…
---
We've been around since 2004. Visit our About Us page for more information about our history.