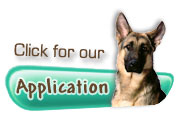 Before you submit an adoption application, please read the following:
Learn about our Seniors FUREVER program (promoting the adoption of shepherds 7 years old and above).
Please ensure that you have fully considered the time, energy, and financial commitment it takes to train, exercise, socialize, groom and feed an active German Shepherd Dog. Most of our dogs are abandoned into shelters because the owners "Don't have time for the dog". German Shepherds are active, energetic, working-type dogs!A bored and unhappy German Shepherd Dog will eat your house and dig holes in your beautiful lawn. Do your research! Is a German Shepherd right for you?
Read our Frequently Asked Questions so that you understand our adoption process and know what to expect.
Our Adoptable Dogs list features our own 'Program Dogs' who reside in our volunteers' foster homes, and 'Community Dogs' who are being listed for a third party seeking to find a new home for their German Shepherd. Please make sure you read the listing thoroughly and contact the person listed!
Our dogs receive the following veterinary services: They are brought current on vaccinations, checked for intestinal parasites and de-wormmed, tested for Heartworm disease (treated if necessary), spayed or neuter surgery, micro-chip implant. Dogs in our care also have any other urgent medical needs attended to. We do not guarantee hips or future health over and above what is evident to our veterinarians at the time the dog is in our program.
All applicants are required to provide references, permit a home visit in advance of the adoption, and to sign our legally-enforceable Contract committing to providing proper care for the adopted dog.
We may adopt to applicants outside the State of Missouri providing we can obtain references and find someone to carry out a home visit prior to the adoption taking place.
We do not adopt dogs as OUTSIDE or kennel dogs. NO Exceptions.
Go to our online application.