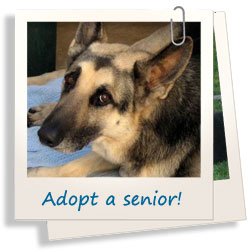 Many people come in to shelters looking for a puppy that can grow with their family.
Other people overlook seniors because they are afraid of the inevitable fate a senior will face much sooner than a younger dog and do not want to deal with that loss.
They forget senior dogs can still have much life and love to give to a new family.
This is why we have developed our "Seniors FUREVER!" Program, to promote adoption of shepherds 7 years old and above. Although German Shepherds can live to be 13 or 14 years old, around 7 is when veterinarians consider large breed dogs to be entering their senior (we think golden) years. Anyone adopting a shepherd 7 years old or older qualifies for our "Seniors FUREVER!" program.
This Program benefits you in adopting a senior dog in two different ways – the choice is yours:
You can adopt a senior dog from our program for a reduced adoption fee of $250 (still including all the veterinary work that costs many hundreds of dollars – neuter/spay, microchip, de-worming, heartworm testing, vaccinations etc.)
You can adopt the senior dog from our program for the regular adoption fee BUT this adoption fee then becomes perpetual, and you may return any time in the future and adopt another senior dog from us at NO CHARGE!
Do you think a senior shepherd is right for you? Even older dogs are loving, playful, funny and protective. They are often calmer; obedience trained, and require less exercise and exertion on your part. Are you willing to open your home to a canine companion in his/her golden years? If you have questions please feel free to email us at Serendipity.email@gmail.com.
Read Tray's Poem.