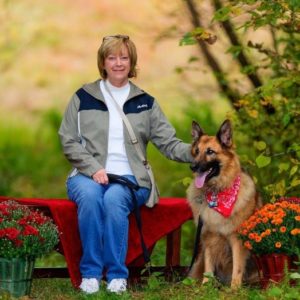 Sharon owns and operates her own business, S. Rootz Consulting, LLC, providing consulting services in health care business and revenue cycle activities. Her company's services include project management, process improvement, vendor management, customer service, electronic data interchange and compliance to government regulations.
Sharon has served SGSDR Board of Directors since November 2014. Sharon first joined SGSDR as an active volunteer in 2013.
More About Sharon
In addition to her professional career and board service to Serendipity, Sharon enjoys a rich family life—she is happily married to husband, Dave, with three children and four grandchildren. Her handsome German Shepherd, Zeb, completes her family and frequently serves as an honorary SGSDR dog ambassador at rescue events.
Why She Volunteers in Rescue
Sharon says, "My love for German Shepherds has been life-long. Such beauty, intelligence and loyalty! My amazing family understands and supports (and sometimes tolerates) my passion for dogs and dog rescue.
In 2009, my boy Zebulon joined our family. What a brave boy he is – on his first night home, this little fluffy fur ball stepped in front of me to protect me from the neighbor's clicking electric meter! Let me tell you, that meter never misbehaved again! Our journey to care for and train Zeb began. Smart and eager to please, this boy quickly became my best buddy.
I credit Zeb with taking me down the path to finding Serendipity German Shepherd Dog Rescue. As he reached his "teenage years," I began searching for like-minded people. I found a heartbreaking story of an injured German Shepherd needing medical care. Serendipity had rescued this pup and was working to get the care needed. That was when I dipped my toes into rescue.
I began as many do—first donating to the cause. Then came applying to be a volunteer followed by my first foster dog, Lexi. She sealed the deal! The fire was ignited—rescuing these amazing dogs is the most gratifying, satisfying and heartbreaking work I've ever done. I was IN!
And as for Zeb? He's okay with the occasional foster and loves to "go to work" when it's time to evaluate another dog. His experience in rescue has helped him to become even better! We are enriched by working with a great volunteer team and amazing dogs!"