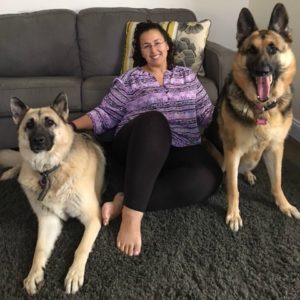 Ila is a PMP-certified Senior Project Manager in the telecommunications industry. Having been with her company for more than seventeen years, Ila says one of the things she appreciates most about her career is the opportunity to meet and work with people from all over the world.
After adopting her first Serendipity dog, Riley, Ila soon joined in as an active volunteer, enthusiastically taking on multiple volunteer responsibilities from adoption application screening to home visits to manning the booth at fundraising events. True to her profession, Ila quickly earned a reputation for bringing superior organizational skills to her volunteer work, identifying opportunities to improve the efficiency and effectiveness of the rescue's operations.
Ila was elected to the Board of Directors in 2015. Ila takes an especially keen interest in educating potential adopters with no prior GSD experience—sharing her knowledge and experience with the breed to ensure potential adopters are making the right breed choice for their lifestyles and their families.
More About Ila
In addition to her professional career and board service to Serendipity, Ila is the proud mom of three wonderful young men. Ila's sons frequently join in to help their mom with various rescue volunteer efforts—from dog walking, to fostering, to booth duty at fundraising events. In addition to adopting SGSDR's Riley, Ila also recently adopted her second SGSDR dog, Tango.
Why She Volunteers in Rescue
Ila says, "I have always been an animal lover. We weren't allowed to have pets for most of my childhood, so I would "rescue" the neighbors' pets by physically carrying or leading them to my house and telling my mom that the cat or dog had no home—and then I'd beg to keep it.
As an adult, I rescued my first GSD about 16 years ago and fell in love with the breed. When we lost her at 13 years old, I knew that I was not interested in any other breed. When we were ready to add a new family member, that's when I found Serendipity.
Volunteering in rescue allows me to feed that little girl inside me who still wants to rescue every animal in need she sees. That's why I rescue—I get to help hundreds of dogs find their forever homes."