Leah – Adopted 2007
Henley – Adopted 2015
Hi, I'm Leah! I am so thankful to Serendipity for rescuing me and finding my forever family. My Mom and Dad adopted me in 2007.
Serendipity rescued my littermates and me from an abandoned trailer near Springfield, Missouri—along with a bag of Ol' Roy dog food! But I guess nobody was feeding any of it to us because we were all very malnourished.
I went into foster care after I got rescued, but my Mom and Dad fell in love with me fast, adopted me, and I've been a member of the family ever since.
People think I have a meek and timid personality, but don't you believe it! I love to wrestle with my brothers and boss them around. I am all German Shepherd!
I have grown up with several brothers over the years. Currently, I boss my brother Henley—he's the handsome black-and-tan boy lying behind me in my photo. Henley is also a Serendipity rescue!
And guess what? We just celebrated my 10th birthday party! How do you like my hat? I made Henley wear one, too. He tried to act too macho for a party hat, but he knows he looks dapper.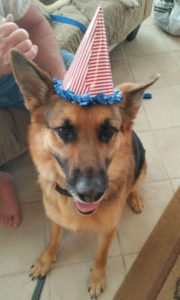 Even better, I got my all-time favorite gifts for my birthday: tennis balls! I say keep them coming!
Henley agrees.
We were so lucky to be rescued and adopted. Thank you, Serendipity, for giving me a fresh start and to my forever family for giving me an amazing life– ten years and counting!
Leah and Henley
The Scheel Family
Missouri