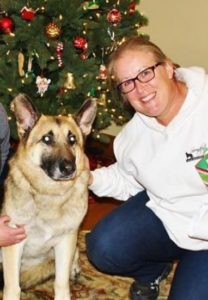 Diane Rohan is Manager of Intellectual Property within the Legal Department of Enterprise Holdings, Inc., parent company of Enterprise Rent-A-Car, National Car Rental and Alamo Rent A Car, where she is responsible for the company's patent portfolio and use of Open Source Software. Diane holds her Bachelor of Science degree in Business Administration, graduating Cum Laude from Lindenwood University.
Diane began volunteering with Serendipity in 2013 and joined the Board of Directors as Treasurer a year later. In 2015, Diane was elected to the role of Board President in addition to continuing her position as Treasurer. She is also a member of the Investment and Marketing Committees. In her role as President and Treasurer, Diane is responsible for the strategic direction, daily operations, and ongoing financial management of the rescue. Under her leadership, the rescue has cultivated valuable and growing partnerships with area veterinarians, shelters, kennels, and other dog professionals.
She invests heavily of her time in support of Serendipity's most valuable assets—our foster families, volunteers, and program dogs. A lifetime dog lover, she spent several years after graduating high school working in a small and large animal practice where she had the opportunity to assist in all aspects of small clinic work—from office work to assisting in the exam room and in surgery. This experience continues to pay off in her current rescue duties.
More About Diane
In addition to her professional career and board service with Serendipity, Diane has been around the GSD breed most of her life. All of her personal dogs have been rescues, including her current pack of four—three of whom were SGSDR foster failures! She also loves horses, riding when she can, cooking and spending time at home. She is a big fan of Halloween, a time of year when her home becomes THE place to see in the neighborhood.
One of Diane's favorite volunteer activities is organizing and leading pack walks and hikes with Serendipity program dogs and volunteers, and any scroll through the rescue's Facebook page will reveal many photos of happy hikers—of both the human and canine persuasion.
Why She Volunteers in Rescue
Diane says, "I was volunteering with an all-breed rescue (as a cat foster—go figure!) when I decided that I really wanted to become involved with GSD rescue. I spotted a post on Facebook about Serendipity reactivating after nearly closing for good and threw my hat in the ring to volunteer shortly after.
My first official duty was transporting a program dog (Piper) and then I started doing home visits, dog evaluations, and fundraising. It's funny, my first dog evaluation for the rescue ended up being my first foster—Ducky, now known as Karma.
Since becoming active in GSD rescue, I have enjoyed applying my corporate skills to the business aspects of running a good rescue (almost) as much as I enjoy working with our program dogs and volunteers. Three of my own dogs were once Serendipity dogs—so helping other dogs find their forever homes through Serendipity is truly a labor of love."