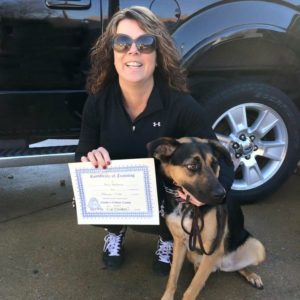 Rebecca is a Payroll Manager in the manufacturing industry.
After the passing of her first Serendipity dog—a senior boy, adopted in 2009—Rebecca became active in local dog rescue organizations. She joined Serendipity as a volunteer in 2014 and was elected to the rescue's Board of Directors in 2015.
Today, Rebecca chairs the rescue's Adoption Committee, leading all volunteer activities to evaluate prospective adoptive homes and to match them with just the right dog for their lifestyles and families.
More About Rebecca
In addition to her professional career and board service to Serendipity, Rebecca is an avid Harley Davidson enthusiast. She and her husband, Todd, both enjoy riding and attended their first Sturgis event—an experience they are definitely looking forward to repeating. Rebecca loves travel, especially when she gets to go on her favorite "beachy" vacations each year. She is a stained glass hobbyist who enjoys creating stepping stones, mosaics, and copper foil and lead designs.
Step-mom to husband Todd's two children, Lauren, age 13, and Jake, age 18, Rebecca and Todd are also dog-parents to their three rescue dogs—Emma, a Gateway Pet Guardians rescue, Bella, a "free to good home" rescue, and Booie, their former Serendipity foster dog—who evidently played her cards so well that Todd and Rebecca joined the "foster failure" club.
Why She Volunteers in Rescue
Rebecca says, "Our senior boy from SGSDR left such an impact on me that I wanted to become an advocate for those who can't speak for themselves. In my volunteer work with Serendipity, I like that we are able to bring dogs into rescue from many different backgrounds and circumstances—and then rehabilitate and place them into loving homes where they will be well cared for the rest of their lives."